September 18, 2017
In this Czech-American TV online Broadcast you will see:
Discover Czech Regions: Karlovy Vary Region is a region with the highest concentration of spa locations in the country, with spa services being the profile industry and creating the Region's image. Both hot and cold springs throughout the Region have a wide spectrum of healing effects.
The Soos National Nature Reserve lies not far from Frantiskove Lazne. The vast peat bogs with lakes, mineral springs and gaseous carbon dioxide springs are reminiscent of a prehistoric landscape. The most interesting places include a nature trail that leads directly above the bogs along meandering wooden walkways.
The Ore Mountains are famous for their high quality ski resorts and an extensive network of machine-groomed cross-country skiing trails. Klinovec and Bozi Dar are among the most frequented destinations of skiers visiting the region; however, very good services can be found in other resorts as well. In addition to skiing, the Ore Mountains offer a whole range of winter activities.
The late Gothic castle and Baroque chateau are a hard to overlook dominant in the town of Becov nad Teplou situated in the valley of the Tepla River. The library and the chateau chapel are definitely worth visiting during a tour of the chateau interiors.
The town of Cheb was first mentioned in a list of the German king Jindrich IV. in 1061. Construction of the first stone stronghold is connected with the early-Middle-Age's policy of colonization.
The famous pilgrimage site of Chlum Svate Mari (St. Mary's Wooded Hillock) is first mentioned in 1341. For centuries, pilgrims have come to see the statuette of the Virgin Mary with the Infant Jesus, with which an interesting legend is connected. Their destination is the Church of the Assumption of the Virgin Mary.
Karlovy Vary – The best known city in the world renowned West Bohemian Spa Triangle, in which some of the most famous figures in European artistic and cultural life have enjoyed treatment, is today the second most visited spot in the Czech Republic. Thanks to its unique architecture, it is one of Europe's most beautiful spas.
The richest and warmest spring in Karlovy Vary – the Hot Spring can be found in the heart of the spa area.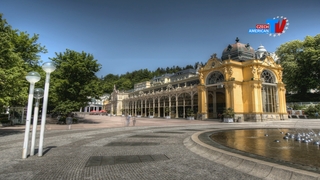 Marianske Lazne is the second largest spa town in the country, and together with Karlovy Vary and Frantiskovy Lazne, forms one of the most attractive regions of the country, known as the West Bohemian Spa Triangle.
In the 14th century, first visitors came for their spa treatments, after King Charles IV gave orders for building the first spa resort and called it Karlovy Vary.
Stay tuned! New Weekly Broadcasts are on Monday/Tuesday at www.catvusa.com